As an important part of human life, mobile has become one of an integral part of everyday life. With the spinning wheel of change there is a great change in mobile technology as well as applications offering more friendly experience to users. With a focus on business-to-business (B2B) and business-to-consumer (B2C) a company developed platform has been developed for mobile apps which is known as SAP Mobile Platform. The platform is of great use to developers as it assists them to create a mobile application in a fast and simple way connecting backend data to mobile users on any device at any time.
Helping you to provide a user-friendly environment and endless opportunities SAP mobile platform tend to offer a secure back-end system to operate with perfect visibility and more increased profitability is the key feature of SAP Mobile Platform. Today SAP mobile Platform is helping customers of all sized and background offering benefits across various industries. There are various deployment options made available by SAP Mobile Platform to get more users engaged. SAP mobile Platform supports SAP standards and requirements of customers to integrate existing authentication infrastructure.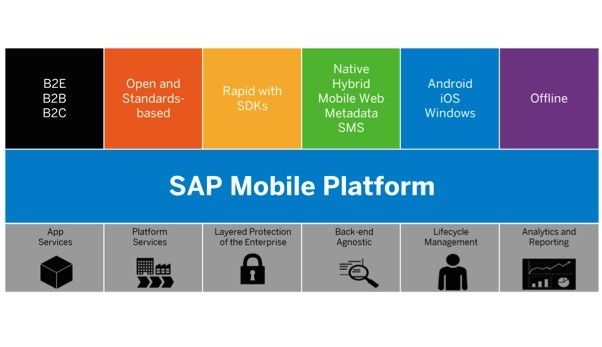 To ever-changing business needs SAP mobile Platform offers a consistent platform enabling of exchanging data between traditional back-end systems to multiple mobile devices. It builds and deploys platform to which keeps people connected solving mobility challenges. It enables to build a grade application by using a single developmental platform empowering employees to use organization application on the personal device.
Customized Approach
SMP not only helpful in creating mobile application however with a flexible approach already existing application can also be customized as per requirements and needs.
Powerful and Friendly
SMP creates powerful and friendly environment developing a cross-platform to create an application that can be used in any mobile system.
Customer Engagement and Loyalty
Developing user-centric mobile applications that can be used on any device encourage engaging loyal customers and employees with improved operations and reducing unnecessary cost.
Business Impact
SAP mobile Platform has developed platforms and mobile solutions which can be widely used in any device has enabled to recognize real impact of SMP on business.
Simple & Authentic
SMP not only assist developers in building application for mobiles however also enable them to create more simple and authentic application for wide usage by users.
Multi-Platform Support
It offers a multi-platform to developers and enables them to build the application the way they want to using their skill set and tools saving development, time, effort and cost.
Secure
With a robust set of service, SAP mobile Platform delivers cutting-edge mobile applications accelerating the development of secure and highly scalable business mobile applications to any device.
Flexible & Scalable
It is very flexible with an approach which seems to be very small in the start, however, grow to millions of users with the passage of time.