SAP has been known for providing high end custom-made business software solutions and is usually implemented by the big organizations. However, today a number of small and medium sized companies have started implementing SAP (Systems, Applications, Products in Data Processing) to achieve their goals and targets.
People who want to make a career in SAP, research on various SAP modules such as BI, FICO, MM, SD, BPC, ABAP, BASIS.
Among all these modules, SAP ABAP and SAP BASIS are most commonly preferred by the professionals. Some plan to focus on SAP BASIS because of the good pay package that it offers. However, they usually get fed up after working for a year or so as the work is very demanding and employees may need to work in the night shifts and even on weekends. Though, this is not the same for people who are into SAP ABAP.
People have a misconception about ABAP regarding the salary structure and its demand in the market which is not always true. If you have knowledge on JAVA, WebUI, UI5 etc. you will definitely get good pay package.
Moreover, just being good at programming does not help a consultant to excel in ABAP as it is very essential to have sound functional knowledge. After working for 10 -12 years as an ABAP consultant, one can perform less coding and more of design/architectural/lead job.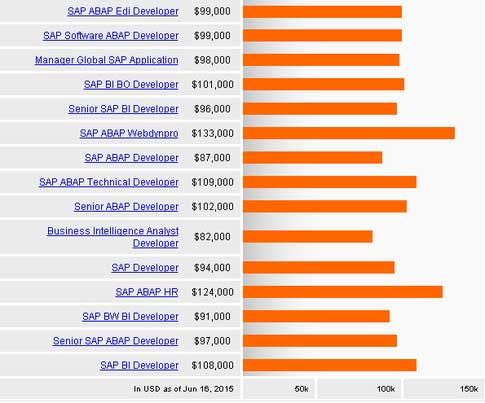 Salary trends of SAP ABAP Developers: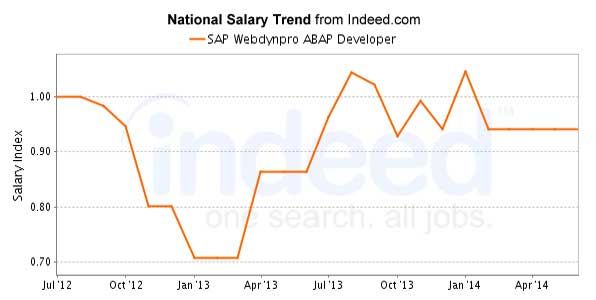 The average salary of a SAP ABAP Developer and a programmer is INR 4, 80,000 per annum. However, the annual average salaries of a SAP ABAP programmer may vary basis on various factors.
Location is the prime factor due to which the salary of a SAP ABAP programmer in Pune might be different from that of Chennai.
Another factor is the type of the project basis which the salary may differ.
Qualifications, skills and the domain knowledge of the programmer is an important factor due to which the salary package might change.